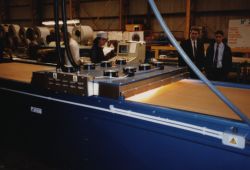 COATED STEELS
Application 1)
A major supplier of coated sheet steel needed to remove 'stress' or 'compression' marks to meet the high quality standards required.
The ideal way of doing this is to re-heat the coating, activating its 'memory'.
A.I.S. supplied a 160Kw short-wave system, including a special conveyor for handling cut steel at speeds of up to 50m/min. Full width control of the heater allows for energy savings on narrow width steel and thyristor power control gives complete and instant flexibility over the heat output. Safety features include a motion sensor for automatic power-down when the line stops and cascade control system over the heater-conveyor relationship.
Application 2)
After the success of of the above system, we were asked to design & produce a system capable of re-activating their co-laminating line. This was required a 706Kw shortwave heater with a reel-to-reel tranfer handling system.
The heater was able to re-activate the 1.5m coils with up to 40m/min line speed. The system was monitored via multiple pyrometers and with full PID control we were able to ensure precise control.